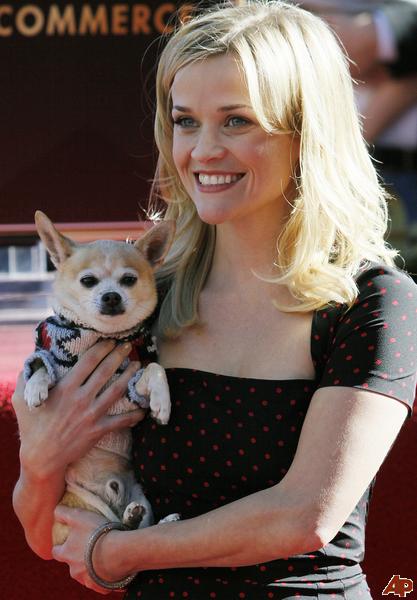 We are not the only ones who find the Chihuahua irresistible. Even those in Hollywood find the time to snuggle with their adorable Chihuahua. See this list of Celebrities that own (or have owned) a Chihuahua.
Chihuahuas are certainly no stranger to the lime-light. Ever since the highly successful, 500 million dollar Taco Bell ad campaign that featured a talking Chihuahua, they have become regulars in Hollywood. Chihuahuas can be seen on many television shows like Disney Channel's, That's so Raven, and others like Ren and Stimpy, Krypto, and Courage the Cowardly Dog.
Chihuahuas have even headlined their very own motion picture; Beverly Hills Chihuahua - 1, 2, and 3, and have appeared in other blockbuster movies like Legally Blond. Here's a list of movies that Chihuahuas have been in.
Aside from movies, Chihuahuas are also adored by many Hollywood stars, and are carried around so often that they can almost be considered a fashion accessory!
This is a list of some of the celebrities that own or have owned a Chihuahua: