The Chihuahua is unique in that it has an almost endless variety of colors, markings, and patterns. Not to mention that most color combination can be found on both the long haired Chihuahua or the short haired Chihuahua. Below is a list of the main types of colors, patterns, and markings; and some of the combinations of colors. Not all of these markings are recognized by the AKC. Also see our types of Chihuahuas page.
Markings and Patterns: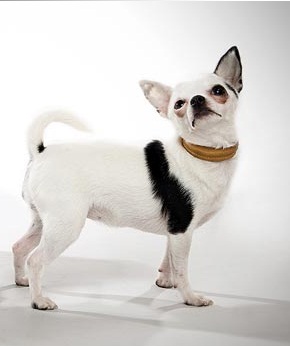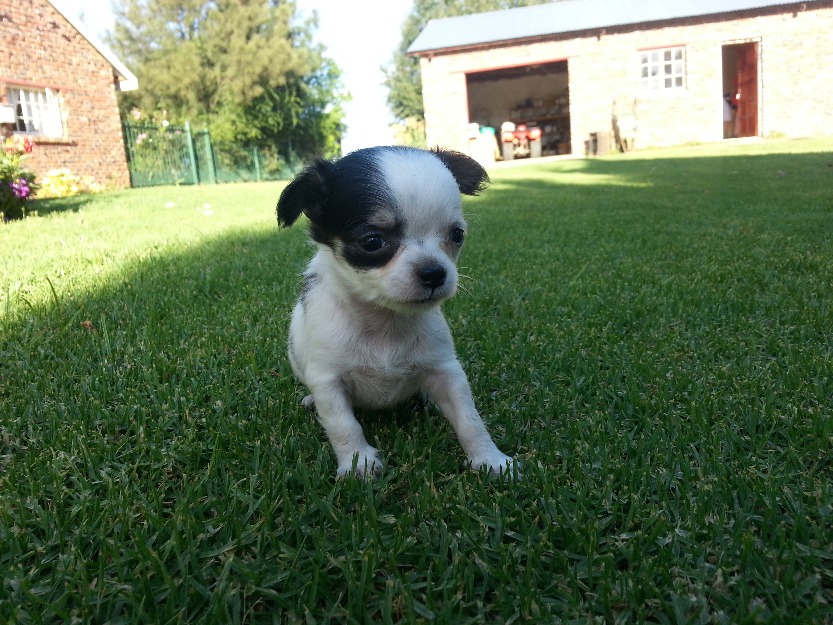 Marked: A marked Chihuahua is any solid color with a few markings on the face or body that are not common enough or specific enough to warrant a named marking.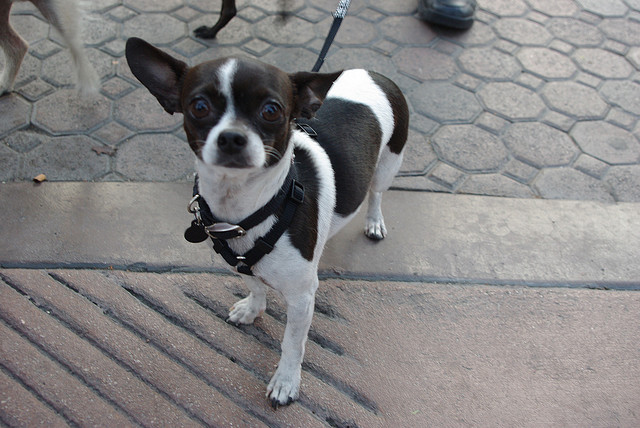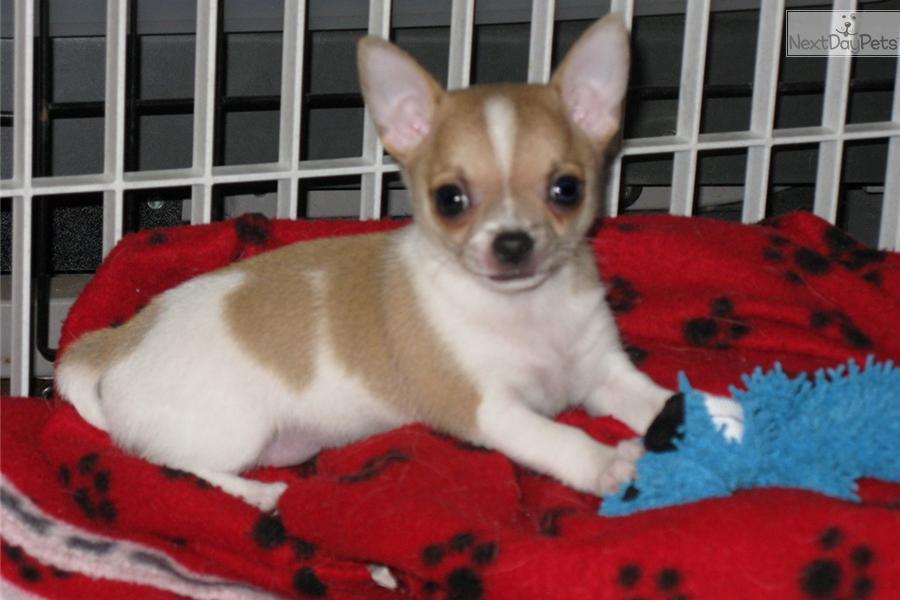 Splashed: A splashed Chihuahua typically has large splashes of color over a solid colored body. Splashes can come in any color, but usually involves white or tan - Black & Tan, Blue & Tan, Fawn & White, Black & Red, etc.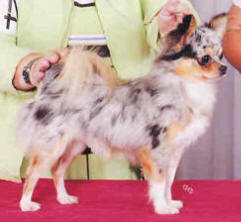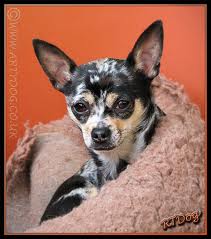 Merle: A Merle is actually not a color but a pattern of mottled or marbled colors in a dog's coat. Merle's usually have blue or uniquely colored eyes.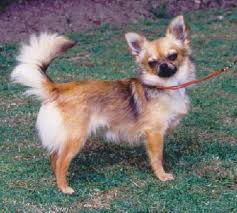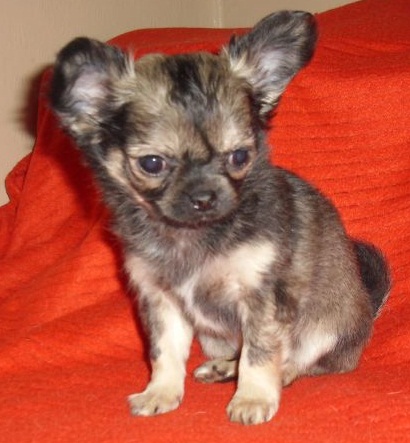 Sable: Sable pattern coloring happens more often and more dramatically in long haired Chihuahuas than in short haired ones because it requires an undercoat, although short coats can also have undercoats. A Sable has darker colored hair in the top coat, and a lighter colored bottom coat. Sometimes the hair itself is lighter at the bottom and becomes darker towards the top of hair shaft. They usually have a black top coat, but it can be brown, chocolate, or blue.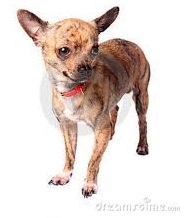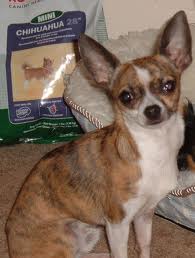 Brindle: A Brindle is a series of stripes or streaks of a darker color than the base coat. It is also called tiger striped. There is a reverse brindle which is just an over concentration of black stripes making it appear black till close examination.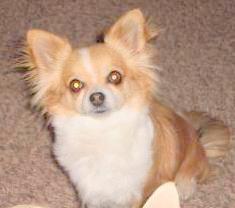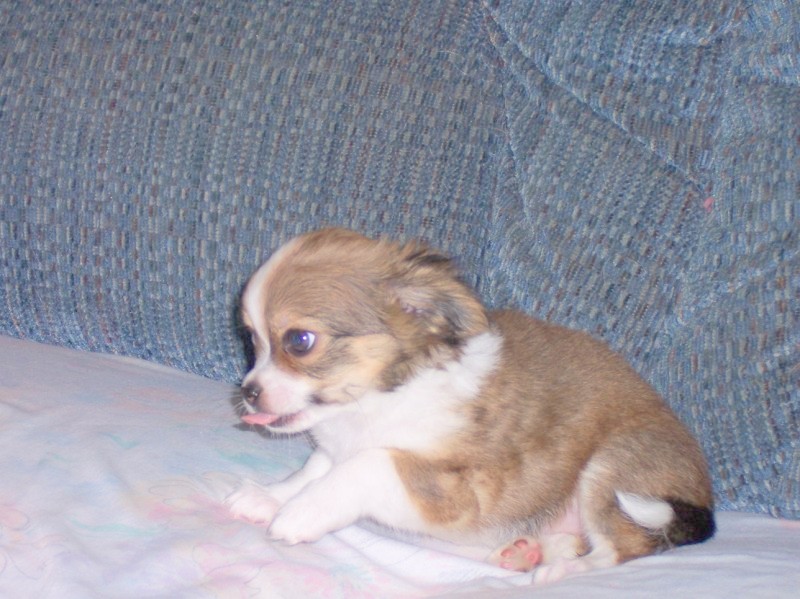 Irish Marked: An Irish Marked Chihuahua is any color combination of a darker color with a white chest, legs, neck ring, and sometimes a blaze. The neck ring does not have to be full ring.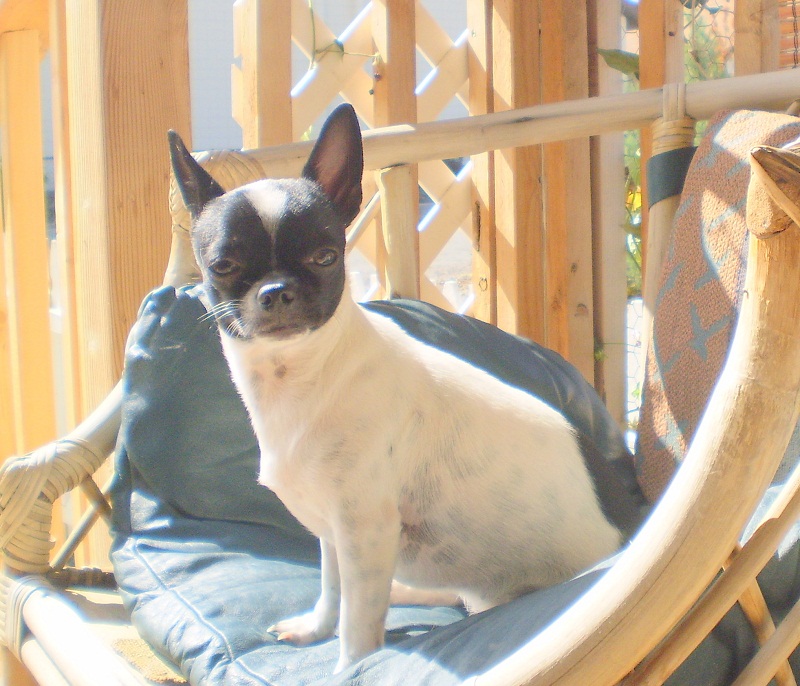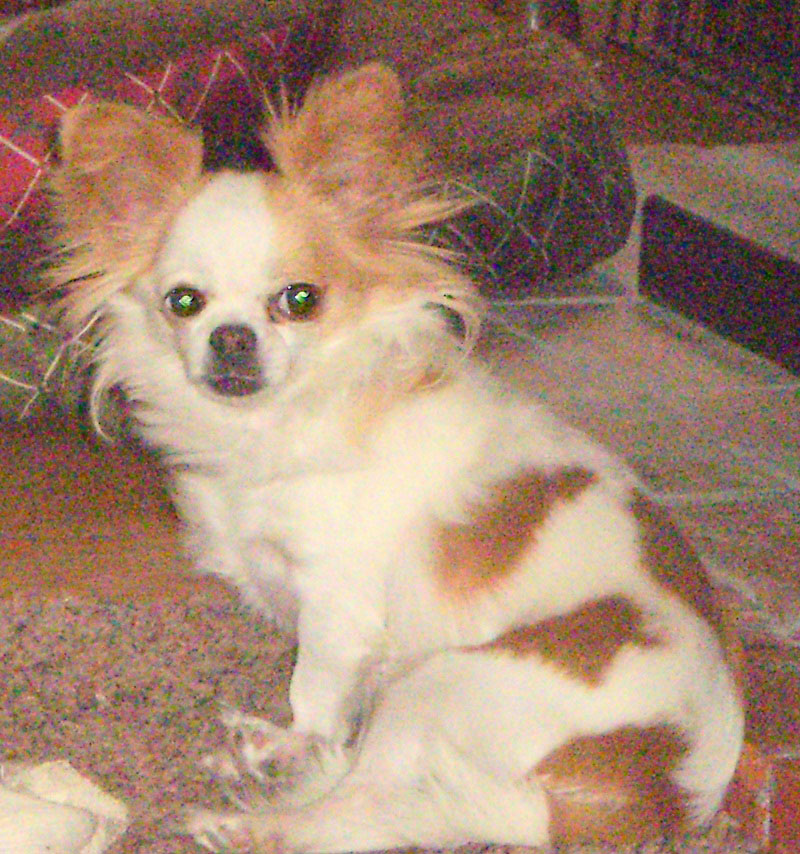 Piebald or Pied: A piebald happens when only the head, a small part of the back, and the base of the tail have coloring, the rest will be white. Often times versions of the Piebald are called a Black Mask. The white hair in a Piebald dog happens because the dog's hair has no pigment. The hair that has pigment is usually black, but can be any darker color.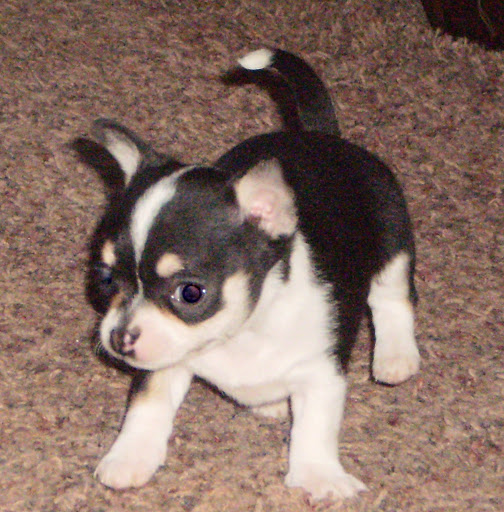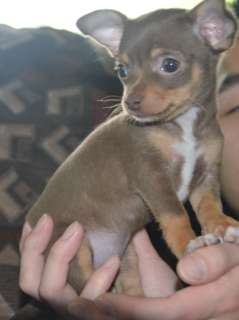 Tri-Colored: Is a combination of three colors with the major color being black or brown variations along with some shade of tan, showing up around the eyes, ears, belly, legs, tail tip. The white is on the underside of the Chihuahua dog such as the chest and feet, a lot of the time the dog has a blaze or spots of white on face.
There are other Chihuahua markings and patterns, but many of them are redundant or have similar meanings, some of the following color terms are not often used in describing a Chihuahua's colors, but they can be. There's the Tuxedo pattern which is just a Chihuahua with a darker body and a white chest.
These following terms can also be used to describe a dog's color but not usually associated when describing a Chihuahuas color but can be used. The Tuxedo is similar to the Irish Marked Chihuahua. Harlequin is patches or splashes of black on white. Harlequin, Tuxedo, Bi-Colored, Two Colored, and Patched, are all terms used to describe a two colored dog. Speckled, Ticked, and Flecked are some other patterns that describe a dog that has small color markings throughout the coat.
Chihuahua Colors:
There are numerous colors of Chihuahuas. Far too many colors to list every single possible combination, but this list will names some of the more common and well known colors. Not all of the colors listed here are recognized by the AKC or other kennel clubs, but we have listed as many as possible.
Fawns
The fawn color is the most common color of a Chihuahua, probably so named because the color resembles the color of a young deer (a fawn). Although with Chihuahuas, there are many different shades of fawn, from very dark fawns to an almost white fawn (called a cream fawn). Cream colored Chihuahuas are sometimes called champagne, or pearl. Markings with fawns are often black and white marking to solid fawns. They often have a dark or black mask or muzzle. This is the color most people think of when they think of a Chihuahua's color. It is a very popular color.
Fawn: Another variation of fawn. It is the most common color for Chihuahuas, the color of the Taco Bell Chihuahua. Sometimes this color is called red, copper and tan.
Sable Fawn: A sable color is any color that is darker on the top layers of hair than the under coat, usually it is black sable but can be brown, chocolate, and blue. The blue sable pups are usually born blue changing to fawn later.
Blue Fawn:
Fawn & White: Cream colored with white markings usually around neck, chest, head, feet.
Blacks
Black is the most dominant color and also a very common color, usually most solid colored dogs have some sort of white marking. They have dark eyes and a black nose. Show dogs Chihuahuas with very dark coats are not favored as the darker the color, the easier it is to hide flaws, but a darker color is often preferred by pet owners, besides that's where the deep rich chocolate and blues come from!
Black & Tan: Mostly a black Chihuahua usually with tan above the eyes, cheeks, chest, legs, sometimes underside of tail.
Black & Tan With White Markings: Also call a black tri-colored. The white markings are also called Irish-marked, where the chest, legs, blaze, and neck ring (can also be a partial neck ring) are white.
Black & White: Mostly black with white on the face, chest and sometimes the legs.
Black Spotted on White: A whitish colored dog with black markings or splashes of black, sometimes with tan also. If three colors then it is a tri-colored black & white.
Black & Red:
Black & Silver:

Blues
Blue: Is a diluted black also called gray, with different shades of blue from light sometimes called lilac to very dark like a slate or steel, almost black. They can be all blue or with markings. True Blues have blue feet pads, nails, noses and sometimes eye rims.
Blue and White: Mostly blue with white markings on chest, face, tail, and legs. Can also be spotted or splashed with white on blue or blue on white.
Blue and Tan with White: Also call a tri-colored blue, it is a blue based color with tan usually around eyes, chest, legs and back, with white on chest, legs, underside of tail, blaze or white on face.
Chocolate's
A Chocolate Chihuahua is a brown Chihuahua, ranging from milk chocolate (yum) to red, to dark chocolate (yum, yum). True chocolate Chihuahuas have chocolate noses, nails, feet pads and even chocolate eyes.
Chocolate and White: Your Chihuahua can be a solid chocolate or with white markings, can be found on the face, legs and chest.
Chocolate and Tan: Chocolate with tan markings usually around the eyes, cheeks, chest or belly and legs.
Chocolate and Tan with White: This is a chocolate based tri-color. Chocolate is the main color with tan around eyes, cheeks, legs, with white on chest, legs and face. They can also be white with chocolate and or tan splashes, sort of a reverse tri-colored chocolate.
Other Colors:
Gold: A deep rich amber color, resembles the color of honey.
Gold & White:
Red: Darker than the cream, almost an orange color, also called an apricot blonde and copper, can get deep red as an Irish Setter.
Red & White:
Cream: Cream colored almost white, sometimes with white markings. Cream colored are also called blondes, champagne, and beige colored.
Silver:
White & Silver:
White
White is the rarest color of all. It is extremely rare to find a true white Chihuahua, most of the time there is some trace coloring of fawn or cream on their coat. White Chihuahuas can have black noses, and toenails. They can also have pale colors such as pink and beige for their eyes and nose.